Polymedial work processes
Performance and Experiment in Sound and Vision
by Simone Carneiro, Julia Starsky, Anglelica Castelo
Friday, October 9. 2020 – 20:00
Belvedere 21 / Blickle Kino
Shorts and presentation, approx. 100 min.
Old audio cassette tapes, video synthesizers, analog scroll projections, these are some of the tools used by Carneiro, Castelló and starsky. Pure nostalgia mixed into contemporary digital culture. Not in a defiant manner but more as a natural work process which has been developed over decades.
Simone Carneiro is a cross-media artist who combines and interweaves different working methods, media of expression and technologies including analog and digital video as well as old and new printing techniques such as lithography, screenprint, etching and 3D printing.
Angélica Castelló is a composer and sound artist working at the interface of music, performance and visual arts. She recomposes and mixes musical pieces, combining the new with the old including home recordings, accidental recordings and live performances creating a diary of noise, songs, and dreaming.
starsky is a pioneer of projection art, her work extends from imposing large-format projections, comprehensive light-image installations, poly media live performances up to text interventions in urban space. In the process image, language, communication and environment merge into an all-embracing art form.
Examples of their work will be screened, followed by a conversation between the three artists and Claudia Slanar.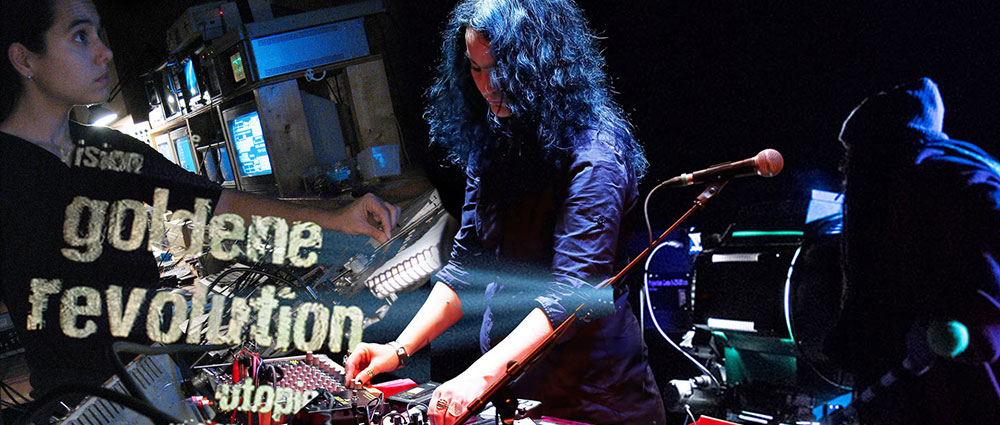 Alte Audiokassetten, Videosynthesizer, analoge Bildlaufprojektionen – dies sind einige der Werkzeuge, die von Carneiro, Castelló und starsky verwendet werden. Reine Nostalgie gemischt mit zeitgenössischer digitaler Kultur. Nicht trotzig, sondern als natürlicher Arbeitsprozess, der über Jahrzehnte entwickelt wurde.    
Simone Carneiro ist eine medienübergreifende Künstlerin, die verschiedene Arbeitsmethoden, Ausdrucksmittel und Technologien wie analoges und digitales Video sowie alte und neue Drucktechniken wie Lithografie, Siebdruck, Radierungen und 3D-Druck kombiniert und miteinander verwebt.    
Angélica Castelló ist Komponistin und Klangkünstlerin und arbeitet an der Schnittstelle von Musik, Performance und bildender Kunst. Sie komponiert und mischt Musikstücke und kombiniert das Neue mit dem Alten, einschließlich Heimaufnahmen, versehentlichen Aufnahmen und Live-Auftritten, wodurch ein Tagebuch mit Lärm, Liedern und Träumen entsteht.    
starsky ist eine Pionierin der Projektionskunst. Ihre Arbeit reicht von imposanten großformatigen Projektionen, umfassenden Lichtbildinstallationen, Poly-Media-Live-Performances bis hin zu Textinterventionen im urbanen Raum. Dabei verschmelzen Bild, Sprache, Kommunikation und Umwelt zu einem Gesamtkunstwerk.    
Beispiele ihrer Arbeiten werden gezeigt, gefolgt von einem Gespräch zwischen den drei Künstlerinnen und Claudia Slanar.